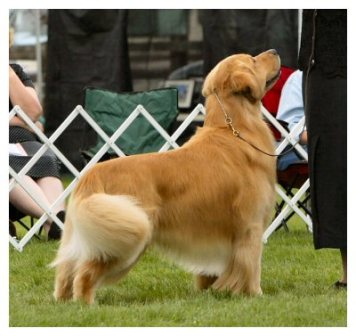 GOLDENQUEST (REG'D 1972)
Best In Show Quality
GOLDEN RETRIEVERS


Goldenquest was Registered with the Canadian Kennel Club in 1972. We are located in Delta, British Columbia, Canada, just 30 minutes from Vancouver and the Vancouver International Airport.

We acquired our first golden, Ch Deegoljay's Amorous Aspasia (Robin) in 1971 from Portland, Oregon, USA. Robin was a linebred daughter of BIS Am Can Ch Beckwith's Malagold Flash UDT SDHF and was undefeated in puppy, open and specials competition in Canada by any golden female, all owner handled.

Robin was first bred to Am Can Mex Ch Cal-Vo's Happy Ambassador SDHF and then to Am Ch Misty Morn's Sunset SDHF producing 10 Champions including the #1 Golden Female in Canada and the USA in 1976, namely, Am Can Ch Goldenquest's Lucky Charm (Charm) and three other top ten females in Canada or the U.S.

Charm was bred to Am Can Ch Krishna's Klassic Kachina SDHF and produced the Multi Best in Show winner Ch Goldenquest's the Entertainer SDHF (Andy), and our superb Stud Dog Ch Goldenquest's Sungod, Hall of Fame OS (Quest). Only 10 of Quest's kids were shown and 9 of them became Champions. Even more remarkable, 3 of them were Best in Show winners.

Quest's outstanding kids have won approximately 20 Best in Shows and they are: BIS Am Can Ch Gretchen's Chivas Regal SDHF (Turk), who was one of Canada's all time winning goldens; BIS Ch Remital's Goldenquest Charlie SDHF (Charlie); BIS Ch Sunstone's Wesaka Conquest (Winner); and Ch Remital's Goldenquest Jessie (Jessie), BC's Top Winning Female during her show career.

Goldenquest is now in its 10th generation of the same line of goldens, all going directly back to our first golden, "Robin". This has been a highly successful genetic line producing Best in Show quality with superb health clearances and temperaments.

Our past goldens include an exceptional boy sired by BIS Am/Can/Int Ch Pacificgold's The Dance (Brooks) and out of Ch Goldenquest's Sunstone Teaka (Teaka). He is Best in Show Am/ Can Ch Goldenquest's Jaayd SDHF. Jaayd was Canada's #1 Golden in the spring of 2002 and quickly earned his Show Dog Hall of Fame status. Jaayd was very handsome and a powerful, sound moving golden with an exceptionally outgoing temperament.

Our other beautiful past goldens include Ch Goldenquest's Sean Connery. Sean is Jaayd's litter brother and is structurally equal to Jaayd in quality. On the way to his Championship Sean defeated American Top Ten BIS and Specialty winners who were competing in the same open class as Sean for their Canadian Championships.

We repeated the breeding of "Brooks" x "Teaka" and kept two very nice daughters, namely, Ch Goldenquest's Enchanting Emma, (Emma), and Goldenquest Pacificgold Fiesta, (Fiesta).

Emma was bred to Am. Can. Ch. Creeksidefrm's Country Squire (Gentry) and we kept a strikingly beautiful daughter that we call "Melody". Melody quickly earned her Canadian Championship and her hips are rated OFA Excellent.

Our current outgoing happy boy is Can. Grand Ch. Goldenquest's Festus O' Hagain. "Festus" is a Sporting Group winner and a Grand Champion.

At Goldenquest it has been our goal for the last 40 years to breed Best in Show quality goldens with very good temperaments, superb health and longevity, and a strong desire to retrieve.

Welcome to our Web Site and enjoy your visit. Please feel free to contact us with any inquiries you may have.